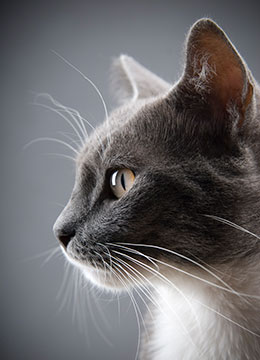 We are running a Feline Hypertension Awareness Campaign throughout December, January and February.
Hypertension, also known as high blood pressure, is a common clinical problem in cats and is most often diagnosed in cats over 7. It is known as the silent killer as it does not always display symptoms until it is too late.
We note from our records that you own a cat/cats in this age range.
Checking the blood pressure is a non-invasive test, which aids in the screening process for underlying health conditions, such as Chronic Kidney Disease and Hyperthyroidism.
Long-term high blood pressure can lead to many complications, such as sudden vision loss, organ damage and heart issues. Early diagnosis of hypertension is therefore critical in preventing such problems.
Half Price Blood Pressure Checks
Because it is so important to detect high blood pressure early, we are offering half price blood pressure checks throughout December, January and February.
We are inviting all cats over 7 years of age to attend a clinic with one of our veterinary nurses.
To book, simply call the hospital and book in with one of our nurse clinics. Your cat will receive a health check and blood pressure reading.
If your cat has high blood pressure you will be referred to a vet for further advice. If you cat has normal blood pressure, it is recommended to monitor again in one year.
Call us for more details or to book an appointment.