Duncan Greeff BVetMed MRCVS CertAVP (GSAS)
Clinical Director
Duncan is a graduate of the Royal Veterinary College. After completing an internship at Dick White referrals and subsequently gaining his certificate in advanced veterinary practice in small animal surgery, Duncan joined Animed as clinical director in 2017. He is an advanced practitioner in small animal surgery and is particularly interested in orthopaedic and soft tissue surgery. He shares his home with two energetic Springer Spaniels, a noisy cat and several ducks! Emily Auger BVetMed MRCVS
Emily qualified from the Royal Veterinary College in 2010 and joined Animed in March 2018. Emily enjoys working as a general practitioner and also has completed an additional certificate in ophthalmology. As an Official Veterinarian, Emily is authorised to issue pet passports and complete export health certificates. She owns three cats called Bitsy, Barnaby and (naughty) Nigella, as well as two cheeky terriers called Penny and Esme. Away from work, Emily enjoys horse riding and yoga.
Cora Cheung BVetMed (Hons) MRCVS
Cora graduated with honours from the Royal Veterinary College in 2018 and joined Animed Vets shortly after. She enjoys all aspects of veterinary work, with a particular interest in medicine cases. Cora likes being in general practice and will always be looking out for training which will help to hone her skills and add depth to her knowledge of better animal care. Cora looks back fondly to the days when she was a "foster parent" with SPCA Hong Kong and helped to look after sickly dogs and puppies, with 13 dogs to her credit. For now, she has to be satisfied with watching her little fighter fish, Hooch, play. Outside of work, she enjoys playing video games, trying out new recipes in her kitchen and dancing.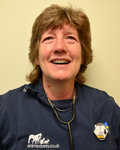 Caroline Coombs BVetMed MRCVS
Caroline qualified from the Royal Veterinary College in 1982, and was employed as a small animal vet at the Wickham hospital just after qualifying. She is founder member of Animed Veterinary Group, becoming a junior partner before the practice was sold to CVS in 2008. Caroline has remained a small animal GP based at the hospital at Shedfield. John Ellis BVSc(Hons) CertAVP(SAM) CertAVP(ECC) PGCert(VPS) MRCVS
John qualified, with honours, from the University of Bristol in 2010, and has worked in small animal practice ever since. He worked at Animed Vets for seven years, and after a brief year away, he rejoined the team in 2018 because he missed it so much! John enjoys all aspects of veterinary work, but has a particular interest in internal medicine and critical care cases. This led him to complete the RCVS Certificate in Advanced Veterinary Practice (CertAVP) in Small Animal Medicine, followed by the CertAVP in Emergency & Critical Care. Outside of work, John enjoys spending time with his two dogs, a Whippet called William and a Patterdale Terrier called Martha, looking after his rare breed tortoises, going to the theatre, and also teaching gym classes as a qualified Les Mills Bodypump instructor.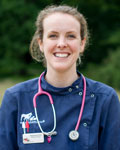 Stephanie Ellis BVSc MRCVS
Steph graduated with honours from Bristol University in 2009 and joined us in March 2010; having observed practice with us as a vet student she knew Animed was a place she would enjoy working and allow her to work to her high clinical standards. Steph is mainly based at our Cowplain branch clinic, where she truly enjoys being an 'all rounder', though her area of particular interest is complex medical cases. Steph has two geriatric house rabbits, both of whom were rescues and is passionate about rabbit health and welfare. Outside of work you'll find Steph playing basketball, listening to live music or enjoying the great outdoors. Poppy Makhzangi BVM BVS MRCVS
Poppy graduated from the University of Nottingham with honours in 2014, and has since worked in mixed and small animal practice. She has a particular interest in medical cases but enjoy all aspects of the job. In her spare time, Poppy enjoys swimming - she loves to scuba dive but the UK seas aren't appealing! She is owned by three Staffies who take up all of her time and keep her very busy.
Kirsty Maskell BVetMed MRCVS
Kirsty qualified from the Royal Veterinary College in 2017 and joined Animed shortly after. She enjoys all aspects of the job and has a particular interest in surgery and emergency care; in the future Kirsty is interested in working towards advanced qualifications in these areas. Kirsty owns a cat called Tigger whom she rescued, as well as a rabbit called Letty and a much loved tortoise called Harry. Away from work she enjoys netball, reading and going to the cinema. Ana Oliveira BVS MRCVS
Ana graduated in January 2017 from the University of Tras-os-Montes e Alto Douro in Portugal and started working in a primary care hospital in Porto, Portugal. In October 2017 she started a year long rotating internship at Lumbry Park Veterinary Specialists in Alton, where she had the opportunity to learn from specialists in several areas of small animal veterinary medicine. She joined Animed Vets in 2019, hoping to get more experience and to continue to develop her skills. Ana is keen to develop in all areas in small animal medicine but has a particular interest in neurology, having written a master's thesis in the subject. Outside of work, Ana likes to spend her time travelling, reading, going to the cinema and playing with her tortie cat, Olive. Claire Wood BVM&S MRCVS
Claire graduated with distinction from the Royal (Dick) School of Veterinary Studies in July 2017, and joined the Animed team shortly after, where she is based mainly at the hospital. She enjoys all aspects of the job but has a particular interest in rabbit medicine and emergency critical care; she is interested in working towards advanced qualifications in these areas in the future. Outside of work Claire likes to keep active and spends the weekends competing in local triathlons, road cycling and kayaking around the South Downs and New Forest.
Marc Worley BVSc CertAVP(GSAS) MRCVS
Marc qualified from the University of Pretoria in South Africa and immediately started working in welfare in a large township outside Johannesburg before coming over to the UK. He initially worked as a locum before working at Animed 2008 - 2013, after which he went to work at a small practice near Petersfield. Marc completed an advanced practitioner certificate in small animal surgery and went on to work at a referral centre near Alton as an emergency and critical clinician; returning to Animed in 2017. Marc is currently working towards a further advanced qualification in emergency, critical care and anaesthesia. He enjoys all aspects of veterinary work, particularly soft tissue surgery and critical care work. His spare time is spent pandering to his cat Ryan and pottering around in the garden.